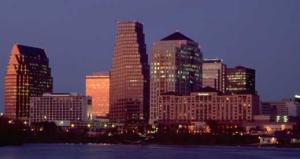 Howdy ! My name is Rusty Shackleford. As mayor I would like to welcome you to Arlen, Texas.
Arlen is a thriving community of friendly, hardworking, and family oriented people. The award winning Arlen Advisor newspaper called Arlen "a special place where propane and lawn mowers run free." Arlen combines the best of small town living with city conveniences.
So whether you're looking for a place to live, play, or work why not choose Arlen, Texas. It's so perfect, we're sure you'll swear it doesn't exist!
*Note: The above picture is not Arlen. It is Ausin, the Texas capital. Arlen does not have a great skyline. In fact, the only significant building in downtown Arlen is a 20 story hotel that went bankrupt in the 1940's.
Arlen Facts
Established 1886, city became one of state's largest cotton-buying centers. Propane was discovered in the 1920's. Substantial industrial development has been made in recent decades