Arlen Univ. Organizations & Student Life
Organizations
Student Association
The Student Association consists of all students. The Senate, elected by competitive bidding, functions as the official voice of the student body and acts as a liaison between the students and the administration.
Class organizations Each of the four classes maintains an organization for furthering the interests of its members. Officers are elected each year to plan parties and hunting trips.
AGR
Real Men Farm
Real Women Farm
Future Propane Dealers of Texas
Men's Hunting Club
Women's Hunting Club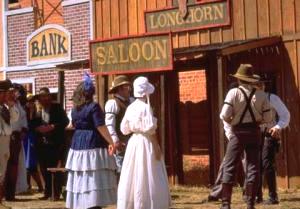 Student life
At Arlen University, we understand the importance of learning beyond the classroom. Class participation is whatever the students wants it to be. A student should feel comfortable missing class if he or she feels it necessary for any reason.
Career Services
The Career Services office provides assistance with career development. Arlen University currently employees two counselors to assist students in seeking and obtaining their career goals. Office hours are 1:30-3:00 Mondays and Wednesdays.
Food Services
Arlen University contracts with the Bulk School Food Corporation. This food service provides expensive, below-average tasting meals to students and staff. All residence hall students must have a meal plan. Meals not eaten by the student are lost with no refund.
Intramural
AU has intramural football, softball, shooting competitions, and car racing.
Residence Halls
Two residence halls - Tom Landry Hall, and Sam Houston Hall - provide on-campus housing for students. In addition to residence halls, upperclassmen have the option of living in University Park, a luxury trailer park. University Park features a laundry mat and volleyball court.
Special Events
The University sponsors several activities and special weekends throughout the year, including Rodeo Week in the spring and Monday Night Football Parties in the fall.
Arlen Univ. Facts
• Arlen Univ. has designed and implemented an "old fashioned" cirriculum and has recruited some of the oldest faculty in the country.
• Arlen Univ. receives and average of $300,000 per year in grants is currently directing $576,000 in grants.
• The university has been successful in its activities to raise private funds for scholorships and professorships.